History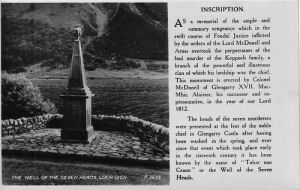 Click above for a larger image

Well Of The Seven Heads - Loch Oich
Toban nan Ceann - The Well Of The Heads
As you drive along the road that skirts the shore of Loch Oich you pass a bizarre column, surmounted by seven severed stone heads, that has a particularly gory history.
It all began on 25th September, 1663 when Alexander MacDonald, the young Chief of Keppoch and his brother Ranald, were stabbed to death by rivals within their clan. Nothing was done to avenge their deaths until Iain Lorn, the Keppoch Bard, nagged MacDonald of Glengarry and Sir James MacDonald of Sleat to punish the criminals. Two years later, the Privy Council in Edinburgh issued letters of "Fire and Sword" against the murderers. Another member of the Keppoch family, Ian Lom (Bald John), with the help of the MacDonalds of Sleat sought "ample and summary vengeance" for the murders by killing and decapitating the seven murderers.
It is said that on his way to Invergarry castle, to present the heads to the chief of Clan MacDonald of Glengarry, Lom stopped at the spring to wash the heads to make them more presentable. Ever since then the spring has been known as Tobar nan Ceann, the Gaelic for Well of the Heads. Later, the heads were sent to Edinburgh and ordered to be "affixit to the gallowes standing on the Gallowlie between Edinburgh and Leith". The bodies were said to be buried in a nearby mound and have since been exhumed, thus providing evidence for the truth of the story. In 1812, the then chief of the Clan McDonell ordered the construction of the roadside obelisk to commemorate both the crime and the summary justice meted out to the perpetrators. Sitting atop the column is a sculpture of a hand holding a large dagger and around it are seven severed heads.
The inscription around the monument relates the story in four languages - Gaelic, French, Latin and English.
Although the well is most certainly not a holy well, it is interesting because the legend has parallels with the Celtic Cult of head and water worship, whereby the head was taken as a trophy of success over a vanquished enemy. It also seems to show a continuation of the belief of the supposed magical properties of the severed head and water, a common in thread in ancient mystical beliefs. That aside the well itself is neither picturesque nor particularly mysterious. You enter its chamber by a long tunnel that is somewhat claustrophobic and which photographer, John Mason, summed up perfectly when he stated that "its smells like death."